Least - Taipei
Lord, when did we see you hungry and feed you, or thirsty and give you something to drink? When did we see you a stranger and invite you in, or needing clothes and clothe you? When did we see you sick or in prison and go to visit you?
The King will reply, 'I tell you the truth, whatever you did for one of the least of these brothers of mine, you did for me.' Matthew 25:37-38
I'm standing in line, waiting to buy train tickets. She comes up, trying to sell me gum. I don't want any and send her away. But I get guilty, call her back, and buy the gum that I'll never chew. She immediately walks over to a billboard that illuminates her with a halo. I am amazed.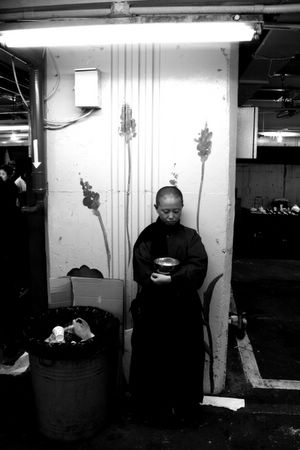 Alms - Taipei
Monk in the surroundings that portray exactly what she has taken a vow to be: a beggar.